What is this free workshop about?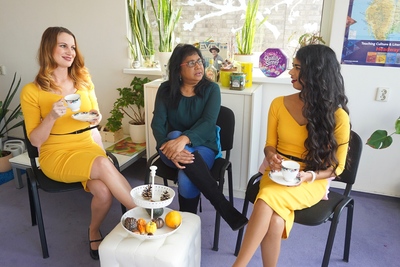 If you already speak a little English but think you can do better, then this workshop is right up your alley! It involves practising different British and American accents and dialects and is designed to familiarize yourself with a variety of tips and tricks that you can use in your daily life.
During this afternoon, you can expect a lot of different hands-on activities and interaction in English, including language-related games, fun facts, 'speed dating' and other activities that will greatly encourage you to further develop your English skills. At the end of the workshop, there will be a little get-together with drinks and snacks.
Chatterday was inspired by our All-You-Can-Talk sessions which TaalTaal has been organizing since 2014. The non-mandatory sessions serve as a free addition to the regular course. Students who participate in these sessions develop more confidence in their ability to speak English and work to perfect their pronunciation along the way.
Sign up for workshop
Why is this workshop important?
For many of our students, it's often difficult to find people to find opportunities to speak English with others in a way that they get feedback on how they can improve. The goal of TaalTaal is to provide such an opportunity.
Nowadays, English is increasingly becoming a requirement for university studies and career development. Feedback from students tells us they tend to get noticed if their English sounds more authentic. It gives them an edge in both work and academia.
Why is the workshop free?
Didactics is an active area of research. TaalTaal sees many unexplored opportunities to increase the joy of learning as well as the productive value of courses. By working together on a common goal, TaalTaal hopes to stand out in a positive and useful way. If you find that this free workshop has helped you in any way, we will be glad to hear from you. There are no further obligations.
Date, location and times
| | | |
| --- | --- | --- |
| Date | December 1st 2018 (Saturday) | from 13:00 to 16:00 hrs |
| Location | Hoge Prins Willemstraat 226-E | Den Haag (Scheveningen) |
| Certificate | proof of participation possible | |
| Price | free | |